OLaLa Farms is a family-owned farm located in the Sierra Nevada Foothills of California.
It is devoted to the Art of Self-Healing and the cultivation and wildcrafting of Organically grown flowers, herbs, fruits, vegetables, barks and roots.
OLaLa Farms produces handmade herbal Salves, Balms, Creams, and Massage Oils. Production techniques reflect cross-cultural healing traditions both ancient & modern, plus the finest materials of extraction guarantee products of the highest vibration.
COMING SOON: a newsletter/blog that will help us learn more about taking care of our bodies using every-day, natural ingredients. It is always best to check with your doctor before starting any new healing regimen.
For information on the current environmental situation in Japan as relating to radiation check out our "Lugol's."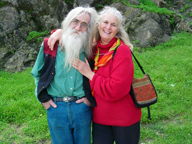 Arlo and Robyn